Jun 4, 2015
Offseason Training With Zach Parise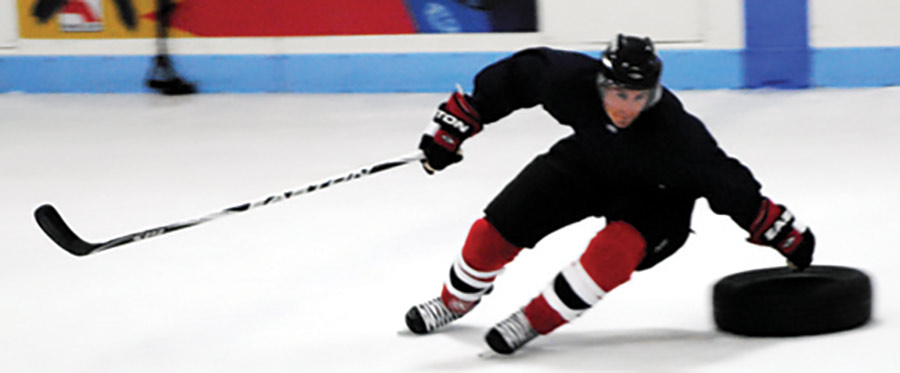 NHL fans know Zach Parise is one of the elite players in hockey today, and of this generation. He is a marquee name in the NHL and a premier player in events on the world stage. Fans of the Minnesota Wild recognize him as a hometown hero on the ice, and a key face of the franchise within the community, giving of his time and energies for many worthy causes. He is the heart and soul of the Wild's resurgence to relevance each spring, as the playoff battles are fought in each round in order stake claim to and raise Lord Stanley's Cup.
From a young age several qualities – character, enthusiasm, team success, leadership, and work ethic – embody Parise's playing career.
While playing at Shattuck St.-Mary's he was twice (2000, 2001) named the tournament MVP of the prestigious Mac's Midget Tournament held in Calgary. His senior year in high school he was awarded Shattuck-St. Mary's distinction as their Best All-Around Athlete.
While playing his freshman (2001-02) and sophomore (2002-03) years at the University of North Dakota, he was twice nominated for the Hobey Baker Award, and was among the Award's three finalists as a sophomore. He was voted team MVP by his teammates after his freshman year and was given a major team award by the UND coaches after his sophomore year which signified "hard work, determination, and being a creator of excitement on the ice."
On the international stage, Parise has been a part of Team USA squads which have won IIHF gold medals at the World Under-18 (2002) and World Junior (2004) Tournaments, and a silver medal at the 2010 Olympics. He was named MVP of the 2004 World Junior Tournament. A two-time Olympian, Parise served as an assistant captain in 2010 in Vancouver, and as the captain of Team USA in 2014 in Sochi, Russia.
Professionally, Parise has been an assistant captain for the Minnesota Wild since joining the team as free agent in 2012. While playing for the New Jersey Devils, he was named team MVP in both 2009 and 2010. He served as the Devils' team captain in 2011-12 while leading the team to the Stanley Cup Finals.
All of the above, and so many more accolades that could be included, underscore Parise's elite level of play within the game, and the immense respect peers have had for him at all levels. He is a gracious and sincere person, giving of his time to share thoughts and encouragement on offseason training for young hockey players.
In conversation, Parise shared philosophies on his own offseason training protocol, observations on youth player development, reflections from the development of his own career, and the importance of offseason skills development.
I asked him, after you play a full season of over 80 to 100 or more games in an NHL season – a competitive season and grind unlike any other in sport – what does your offseason training cycle look like?
"I usually take three to four weeks off," Parise said. "This year we finished up around May 7. I'm just going to start up training next week. Usually I have a good sense how I'm feeling. By that time in the season there are a lot of little injuries players have. The first two weeks are down time. By the third week off, I start to get the itch and want to start training again. In that time I'm still staying active though, playing a little tennis."
Parise went on to describe similarities and differences in training activities as he reflected upon his development from youth, onto college, and into professional hockey.
"I wish I had the knowledge then that I have now," he said. "(When I was younger) getting as big as you can, lifting as much as you can … I think I sacrificed form and a little bit of safety trying to do max lifts. My approach now – we don't do a back squat (all season). Last summer I don't think I put more than 185 pounds on a bar. I do a lot of body weight lifts, and a lot of isometric holds."
In conversation, clearly safety and precise technique are more important in developing and maintaining strength for Parise. He also went on to describe the overwhelming importance of puck skills development for youth and developing players in the offseason.
"Growing up, I loved skating and I loved shooting pucks – that's always been the case. Even to this day, going out before practice to shoot pucks and work on skills, or grabbing a bucket of pucks on plastic ice and shooting into a net. I love shooting pucks and working on my skills. I learned a lot of that from my dad. He said, 'I had to work on my skills just to stay in the NHL.'"
So what motivates a 10-year NHL veteran, and one of the best players in the world of hockey today, to keep improving his game?
First mentioned, and I sense from conversation, his primary drive is the intrinsic motivation to become the best player he can be, daily. From his comments, this is obviously a driving force in Parise's hockey and athletic life.
"You always have that drive to want to get better," he said. "I'm 30 years old and that hasn't changed from when I was 16. There's a lot I can improve on and I still want to get better."
There is also the extrinsic motivation to win a Stanley Cup. NHL players in the Stanley Cup Playoffs exhibit this drive. They will play with bruises and broken bones, show discipline through intense pain, play at a speed and intensity of the game normally unmatched throughout the year – all while the regular player paychecks stopped at the end of the regular season.
Parise readily acknowledged this intense desire as an NHL player: "That want to win. There's one team that has a successful year, and 29 teams whose players are disappointed how things turned out. There's that motivation to win the Stanley Cup."
Returning our conversation back to his offseason training, Parise continued, "We're pretty luck to be here in the summer. A lot of NHL guys come back here for the summer. We have really good skates. There are six to seven NHL guys I train with in the summer. So you're always surrounded by guys you're competing with, and you want to outwork those guys you're working out with."
I asked Zach if there was any other comment he would like to share in a message to youth and developing players who follow him and look up with inspiration at his play. He said: "Skill development. You see sometimes where coaching gets in the way. You have to work on your skills and develop your skills, and work on them in a game. Sometimes things get so 'dummied-down.' You hope kids keep developing the skills. One thing I've noticed since I've been in the NHL, it's impressive how good the young guys, 19 or 20 years old, are coming into the NHL are – the training and skills development that they already have.
"Working on skills in games, that's the important thing. Hockey, it's a skilled game. Unfortunately, you sometimes get sucked into trying to play safe. You want to see players use their skills and make plays, not be afraid to turn it over in a game. It's going to happen. To play and develop with confidence."
Parise exemplifies the great spirit of the game of hockey. The Minnesota Wild are an exciting team to watch, and a legitimate Stanley Cup contender because of this attitude and style of play.
Parise is a leader and a gentleman. Simply put, he is the "good guy" his father encouraged of all young players he mentored to be.
Parise is highly skilled, because he loves to continually practice and develop his skills. Most importantly it's fun for him to keep improving every day! He trains his body strength using safe techniques, in proper athletic ranges of motion, using body-weight and safe weight levels – not unrealistic or ego-driven max lift targets.
Parise's motivation to train comes from within his heart. Hockey isn't work to him – hockey, skill development and training are fun! His motivation comes from a love of the game, for a love of his teammates, and with a desire to get better each and every day.

During a 22-year coaching career, John Hamre has coached PeeWee, Bantam, high school, NCAA Division I, Junior A and minor professional hockey. He was recently named Director of Hockey Operations for the University of Wisconsin men's hockey team. Hamre was the video coach for the 1994 USA Men's Olympic Team, coached within the USA Hockey NTDP, and at many USA Hockey festivals. He holds a Ph.D. from the University of Minnesota.